CoNZealand Fringe is a Hugo Finalist for Best Related Work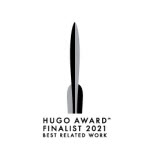 We're so honored to accept this nomination, a huge thank you to everyone who cast their ballot in support. Thanks also go to our panelists, our hosts, our transcriptionists, and the many hands seen and unseen who helped make this event possible. Congratulations as well to all our fellow finalists -- we see and appreciate everything you bring to our communities.
- Claire, Adri, C, Alasdair, Marguerite, Cheryl and Cassie
The Hugo Awards will be presented at the 79th World Science Fiction Convention, DisCon III, in December 2021.
---
A series of complementary genre fiction programming at European-friendly times.
Check out the full video playlist on Youtube
If you've enjoyed CoNZealand Fringe, and would like to hear more about it, and potential future events, please fill in this form.
In the tradition of Edinburgh Fringe and other international collateral events, CoNZealand Fringe has been created as a complementary programming series to the annual science fiction convention Worldcon. All our livestreams take place outside core CoNZealand programming hours and are not official CoNZealand programming items. CoNZealand Fringe is not endorsed by CoNZealand.
Please see our Code of Conduct and Privacy and Data Policy.
The Fringe was a project developed by Claire Rousseau with Adri Joy, C @ The Middle Shelf, Alasdair Stuart, Marguerite Kenner, Cheryl Morgan and Cassie Hart.
Our host channels were: • Claire Rousseau • Noria Reads • Kitty G • Bree Reads Books • Skiffy & Fanty • Emiloid • Betime Bookworm • That's So Poe • Cheryl Morgan • Thoughts on Tomes • Kalanadi
Thank you to Pablo Defendini, Forestofglory, Susan, Ira Alexandre, Sarah Waites, Bree @ Bree Reads Books, Melanie Harding-Shaw, Benjamin C. Kinney, and to everyone across our various slacks and discords who pitched in with help and advice.
And a special thank you to all of our panelists across the week!
Program Schedule
Transcripts of the panels are now available. Expand the panel entries for links.
Tuesday 28th July
Wednesday 29th July
Thursday 30th July
Friday 31st July
Saturday 1st August
Sunday 2nd August